Barber chairs are essential in barber shops and salons. Without them, barbers and patrons alike will have an agonizing experience. As with any other item, barber chairs degrade over time, especially when used frequently in the day-to-day operations of a business. Normally, they can be repaired by the manufacturer. However, there are other manufacturers that cannot provide service anymore for discontinued models of their chairs. Some cheaper units don't have labeled manufacturers at all. Replacement parts may only be found overseas and may cost more in the long run.
In cases wherein manufacturers refuse to accept barber chairs for repair, there are a handful of barber and beauty supply companies that might be able to assist you. Chances are these companies may have a list of manufacturers that can assist in locating a repair facility. There are also restoration shops that restore anything from old Coke machines to barber chairs.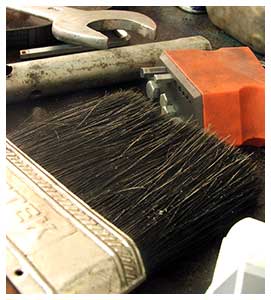 Whenever you are planning to repair these antique chairs, understanding the order in which to operate is very important. Otherwise, it's going to take a long time to fix the chair. The first thing to do is to put the chair on its back down position. This lets you work tightly on the back's front. You then have to position the chair up and face it on the right hand portion. Do whatever it is that you have to do there. Next, operate on the front area of the chair and then on the left side. To finish off, position the chair facing all the way down. It will now be all too easy to slide the back over the edge to handle the underside. Without knowing these in order, you often find areas you had overlooked even if you have already been all over the chair.
Even though there are some projects that are easy to do on your own at home, restoring or repairing antique barber chairs may not be one of them, particularly if you have intentions to sell it in the future. This is also true for other antique items like shelves and desks. If you're considering repairs or restoration, it would be wise to seek advice from a professional before attempting to do it yourself. Some repairs are easy to carry out as a weekend DIY project. In other instances though, your simple restoration project might turn out to be something that would be better left to an expert. This really is usually the case if you're working on one that is rare and has a high value.
---