It is quite remarkable that an antique dentist chair and an antique barber chair bear striking similarities. Some collectors even get confused when they have their classic chairs appraised.
How did this come about? Why is it that two completely unrelated professions seemingly make use of an identical equipment? We'll find out in this article.
The Barber-Surgeon-Dentist Connection
It all began in the Medieval Period, between the 5th and 15th century. Back then, barbers were called barber surgeons. They weren't just cutting hair, their main task was to assist wounded soldiers and perform surgery if necessary. Think of them as modern combat medics. The combat medic carries an aid bag which contains various medicines and equipment essential to saving the lives of soldiers. The barber surgeon, on the other hand only has his trusty razor as his all-around tool. In those days, medical practitioners believed that taking out blood helps prevent diseases from entering the body.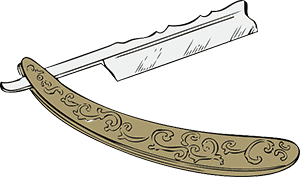 You might have asked, where were the doctors back then? In the middle ages, physicians were in the academe, acting as consultants and lecturers. They were the philosophers of the medical world or the theorists of modern physics. The actual practice of pulling teeth, cutting bodily tissues, examining cataracts or performing bloodletting was left to the barbers.
When the wars were over, barbers would settle down and set up shop. They would put barber poles outside as an indicator. Once people see a pole with red and white stripes, they would know that it is the place to go to have a haircut, treat their wounds, have a tooth extraction or simply have a conversation.
It wasn't until the 18th century when physicians began distancing themselves from barbers. Physicians became more scientific in the Age of Enlightenment. They also became more reliable by having licensure exams, apprenticeship and laboratory work among others.
Indeed, a lot has changed in this day and age. The distinction between surgeons, dentists and barbers has become very clear.
The Antique Dentist Chair
Way back when dentists and barbers were one and the same, their tools and equipment were also very similar. The dental chair began as a modified chair with armrests and a headrest. It's basically any chair where a person can sit in a relaxed position.
It was later improved to include a footrest and have a reclining mechanism that adjusts the back. The dentist chair kept on improving with an added hydraulic mechanism that can raise or lower it.
It wasn't clear which came first. Was it the antique barber chair or the antique dentist chair? In the United States, records show that dental chair designs came out in the mid-1800's while barber chairs only came out in the late 1800's and flourished in the early 1900's.
Antique Dentist Chair and Antique Barber Chair
Here's a quick 2.5-minute video from Pawn Stars' expert antique restorer, Bob Yuhas who pointed out the differences between these antique chairs.

The Modern Dentist Chair
The dental industry has come a long way. Times have changed and methods have improved.
While the practice of cutting or shaving hair hasn't changed much, dentistry has undergone major changes over the years. Tooth extraction has become a walk in the park among dentists and patients alike. False tooth replacement procedures like dentures, bridges and implants have also advanced to the point that distinguishing between a real tooth and a false one has become less relevant.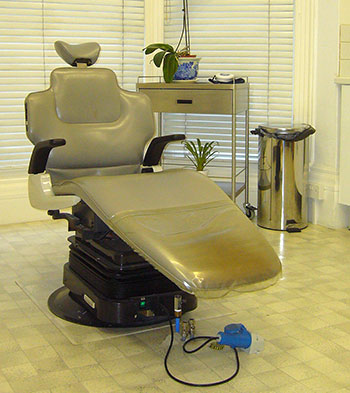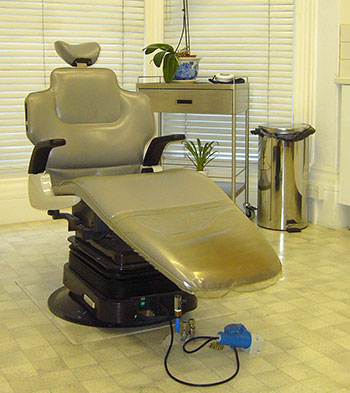 The modern dentist chair design is more futuristic than ever that it has become an inspiration to a famous video game. The Animus in the Assassin's Creed games is very much like the modern dentist chair.
If you are not sure whether you have an antique dentist chair or an antique barber chair, ask us in our Antique Barber Chairs Facebook page.


---