The Louis Hanson Company wasn't solely a barber chair manufacturer, but it was generally a well known furniture maker in Chicago. The owner, Louis Hanson, is a Danish immigrant. Established in 1883, the company produced picture frames during its early years. Later on, it expanded to other furniture such as mirrors. At some point, it decided to go into the barber's supply business by designing its own barber chair.
Not much is known about this company, but a comprehensive biography of Louis Hanson has been posted on the Newberry website. It gives us an idea as to who the man behind the Louis Hanson barber chairs was.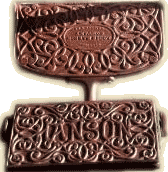 Louis Hanson was born in Denmark on September 16, 1843. He was 22 when he decided to move to the United States to make his mark. He lived in Maine for a year, where he found work at a picture frame factory. At that time, he earned one dollar for every day that he worked. He then moved to Boston where he stayed for another year doing the same job. It wasn't until 1867 that he came to Chicago and began his amazing career.
He was a notable example of someone who worked smart, took risks and rose from poverty to wealth. With all the lessons learned from the various factories that he worked for throughout the years, he finally started his own business in 1871 using his own savings. To make ends meet, he partnered with David Goodwillie to make picture frames, a skill he mastered after years of work in the production line. In 1877, he bought out his partners to take full control of the company. The business grew under his leadership. It also established several factory departments for mirrors, moldings and barber chairs. But the company's growth wasn't without trials. In 1880, it suffered huge losses when the entire factory, along with its tools and machinery, burned to the ground. Within three days, a new and larger plant was acquired in a different location.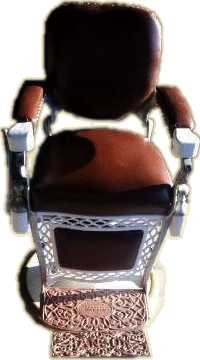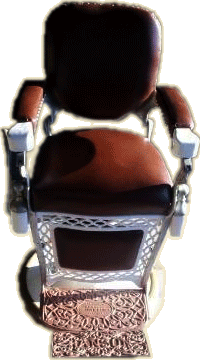 In 1898, the business reached a milestone by exporting barbers' furniture to Johannesburg, South Africa. However, its main market was really in Maine up to California. The company's products were popular across the country.
Although Louis Hanson barber chairs weren't as innovative and flamboyant as its competitors in that era, there are still a lot of hardcore collectors willing to pay top dollar for an early 1900's model in good condition. These days, it's hard to come across one, though. Due to the manufacturer not really focused on barber's supply, probably only a limited number of them exist.
---