Kochs barber chairs are very popular to antique collectors. The Theo. A. Kochs Company was one of the first companies to be in the barber supply business. It was established in Chicago during the late 1800's (estimated to be around 1871). According to its Spring, 1888 catalog, the company's factory was situated far north of the Chicago River:
The North Side Cable Cars, in close proximity to all the principal railway depots, pass directly before our door. The route traversed by the cable cars is plainly designated on the above diagram by dotted lines. Passengers can get aboard these cars at Monroe, Madison, Washington, Randolph, Lake, La Salle and Clark streets. The Wells street Cable Cars will take passengers right to our factory; the Clark street cars carry passengers within two blocks of our establishment.

Intending purchasers will find it to their interest to call on us and examine our goods before buying elsewhere.
Following the barber chair design successes of St. Louis-based Archer Company and Cincinnati-based Eugene Berninghaus, Kochs integrated those enhancements into his design. Things turned out particularly well for the Chicago-based company. It sold tens of thousands in a relatively short span of time. As the company would put it:
This growth has been not only a remarkable but a healthy one; it demonstrates more forcibly than words can tell, the popularity and superiority of our goods. It is a cordial endorsement of the generous policy of the house and its straightforward business methods.
…
Our factory is the largest and most complete of its kind in the world, and we say this without making any reservation whatsoever. It is most systematically arranged for the highest grade of work at a minimum cost, and in its equipment of labor-saving machinery it cannot be surpassed.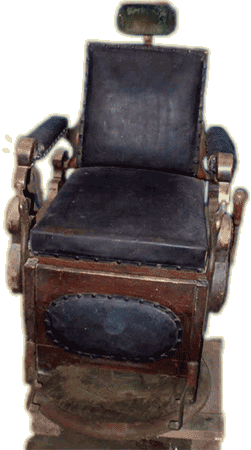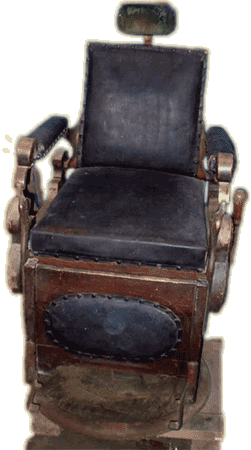 Kochs barber chairs are made with high quality materials, that's why they are reputable. Before the turn of the 20th century, most of the company's barber chair designs were made of wood (mostly Walnut, Cherry or Mahogany) with elaborate ornamentation. The earlier models, which were plainly named No. 9, No. 5 or No. 25, had a separate footstool. These models didn't have mechanisms for adjusting the height, so the company charged extra for an accessory to raise the seat.
One interesting model was Kochs Folding Barber Chair No. 40. It was made of Oak and upholstered in Velour plush. The upholstery was trimmed with fringes and the cloth-covered back was enameled. Due to its folding design, it occupied little space and only weighed less than 25 lbs. The chair was intended to be transportable; to be used by soldiers or barbers who travel the country during the Summer.
Aside from barber chairs, Kochs also sold barbers' furniture such as stools, barber poles, mirror and dressing cases, mug cases, shelf cases, cabinet brackets, work-stands, wash-stands, hall racks, towel cases and looking glasses. Almost all of their models have remarkable engraving that's typical of the Kochs brand.
Modern Kochs barber chair designs (1903 Catalog) can be viewed at the Smithsonian Libraries website.
---