It was in 1875 that the Eugene Berninghaus Company opened its doors to the general public in Cincinnati, Ohio. According to antique collectors, it was the first manufacturer of barber chairs in the United States. Like the Koken, Kochs and Paidar companies, the business was named after its founder, Eugene Berninghaus. Eugene was born in Germany in 1845 to Richard Berninghaus and Thusnelda Schnick. The family moved to New York in 1849. In 1856, they eventually settled in Ohio where they started selling perfumes as an enterprise. A couple of decades later, the now grown-up and married Eugene formed his own business. He passed away just days after his 79th birthday on July 17th, 1924. However, the business lived on until 1938.
Eugene Berninghaus designed the first barber chair that reclines and revolves at the same time. The company called this product, Paragon. Paragon was a response to its rival, the Archer Company, in which the design made it possible for the chair to raise and lower mechanically. These early models provided the blueprint for the barber chair designs that would follow a few years later. One such manufacturer was the Theo A. Kochs company, which combined the prior designs into its chairs and sold well.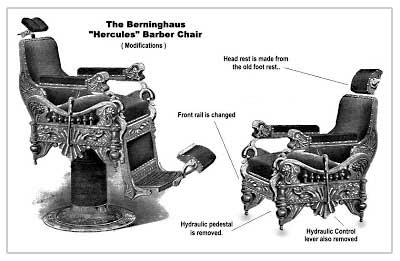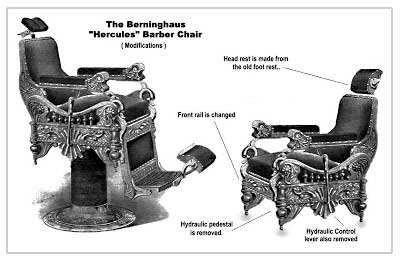 The company became famous for its "Hercules" line of Berninghaus barber chairs. Hercules was made with the finest kinds of wood, including Oak, Mahogany and Walnut. It also has some cast iron portions. The upholstery was either leather or mohair plush. In 1960, one of its chairs was featured in the movie, Time Machine by H.G. Wells. It turned out to be an 1899 version of the Hercules that was modified for the set. In 1970, M.G.M., the firm that owns the movie auctioned off the chair along with many other props from different movies.
Berninghaus barber chairs are sought after by antique collectors today because of their age. Being the first in the industry and ceasing in the 1930's, there are probably very few that survived the test of time. There are a few later models in good shape though. Fausto Ferrari's shop has been operating in Cincinnati since 1957. Pay a visit and sit on one when you get a chance.
---