About 35 years since its establishment, Chicago-based Theo A. Kochs Company had become a major player in the barbers' chair and furniture business. Most of its barber chairs were built from wood, and they had exquisite carvings to boot. In addition, almost all of them were already hydraulic-operated.
Kochs Grand Prize Barbers' Chair
The Kochs Grand Prize barber chairs were aptly named due to the numerous awards they received from various trade shows over the years.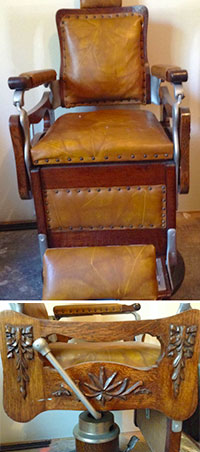 Kochs Grand No. 5 is made of mahogany and upholstered with Spanish hand-buffed leather. Metal trimmings surround the back rest and the foot rest, while the base is fitted with polished brass. The barber chair is hydraulic-operated, revolving, and reclining. It is priced at $125.00, the most expensive barber chair model in the catalog.
Kochs Grand No. 1 is made of oak and finished with English oak. It is upholstered with fine leather, although mohair plush can be an option as well. The metal trimmings, which are made of antique brass, add a beautiful accent to the chair. It is initially priced at $95.00 but can go up to $115.00 with all the add-ons included.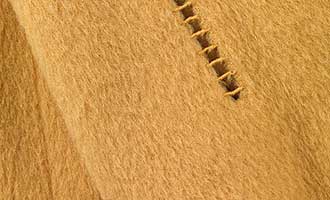 Kochs Grand No. 18 is the most affordable version in the catalog's Grand Prize line (at $48.00), yet it is nowhere near the quality of a modestly-price product. It's still made of oak and metal trimmings, but there are differences in the design, finishing, upholstery, and plating. For instance, the leather used in its upholstery is of a lower grade when compared to the ones used in the more luxurious Grand No. 1 and No. 2.
Kochs Vulcan Barbers' Chair
Kochs Vulcan No. 132 is the company's flagship iron barber chair. Some of the chair's noteworthy features are its all-iron frames along with its white and gold motif. It is priced at $85.00 but can go up to $93.00 with all the add-ons.
Kochs Vulcan No. 134 is the second iron barber chair in the catalog. It is mostly the same as Vulcan No. 132 except for a couple of things. First, it is upholstered with woven cane instead of leather. Although leather covering is an option, the quality is a notch lower than the one used in the flagship model. Lastly, Vulcan No. 134 cannot be raised or lowered like No. 132. It can revolve and recline, but it doesn't have a hydraulic mechanism that allows the chair to go up or down. Vulcan No. 134 is priced at $70.00
Kochs Columbia Barbers' Chair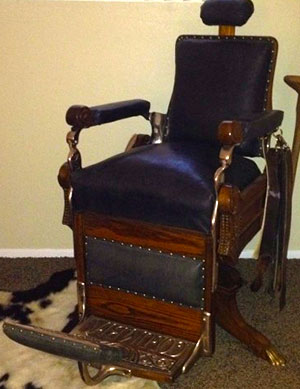 Kochs Columbia is the company's value-for-money barber chair series. Prices range from $32.00 to $42.00. Kochs Columbia barber chairs are not fitted with hydraulic components; therefore, they are not capable of being raised or lowered. To lower costs even more, the seat is upholstered with either mohair plush or leather of a lower grade.
Kochs Barbers' Furniture
Kochs also sold mirror cases, workstands, washstands, lavatories, coat racks, hat racks, and bootblacking stands in their 1906 catalog.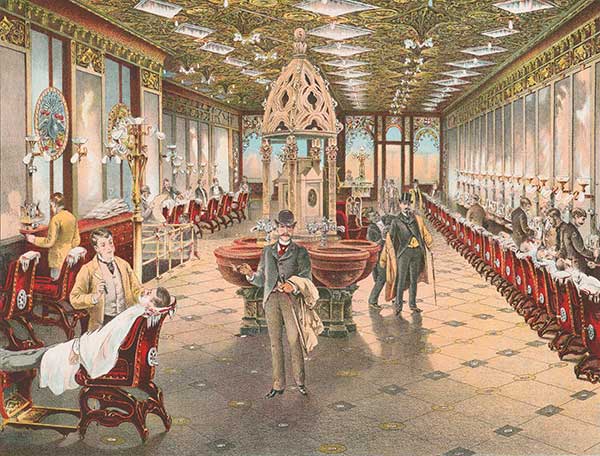 A couple of furniture that's worth mentioning are Mirror Case No. 251 and Blootblacking Stand No. 549. The said mirror case can be assembled to have room for 6 barber chairs. It is 31 feet, 3 inches long and comes fitted with porcelain enameled lavatories as well as white enameled cabinets. The entire set, excluding the barber chairs, costs a whopping $922.00. Today, it would be priced at over $30,000.
Meanwhile, a bootblacking stand is a rather interesting term for a shoeshine stand. Purists often insist that a bootblack is different from a shoeshine. They say that one shares a passion for leather, while the other does it simply because it pays the bills. Be that as it may, a bootblacking stand and a shoeshine stand are same product from a salesperson's perspective.
The word, shoeshine was never mentioned in the 1906 Kochs Catalog. 14 years later, it was the other way around. Bootblacking had completely disappeared from the 1920 Koken Catalog, and the name was replaced with shoeshine. It would be interesting to know how shoeshine became the more familiar term in the years that followed.
The Theo A. Kochs Company had an assortment of barbers' products in their 1906 catalog. Regrettably, the catalog is protected by copyright and thus, cannot be shared on this blog. If you're interested in Kochs barber chairs and furniture during that period, head over to this link. It's truly amazing to see so many beautiful illustrations of well-made stuff from that era.