Vintage barber chairs are exquisite and unique. They are extremely comfy and generally have intricate designs. Think about sitting on one for a moment. Imagine the people who have sat on it in the past. These collectible items tend to be priced quite high. The most popular one, Koken, is highly sought after. Barber chairs from Koken are particularly precious because of their sophisticated designs and remarkable craftsmanship.
Nowadays, you won't be able to find a lot of vintage barber chairs that can be purchased in antique shops or on auction web sites for the reason that a number of them have already been donated to museums while some others are simply not exposed by their owners to protect the value. Even so, there are many reproductions that will set you back several bucks as opposed to their genuine counterparts that are really worth a fortune.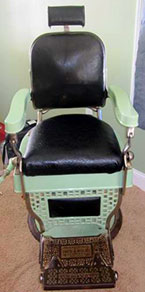 There truly is something special about the vintage barber chair. It provides an elegant look to a barber shop or any other antique establishment. It can also draw interest among bystanders and prospective buyers as well as help you get more clients along the way.
To the right collector, a classic item may cost thousands of dollars. Ideally, the older the chair, the more it costs. However, this isn't entirely correct. As with any item that's old, condition is everything. A dealer might have an 80-year old Koken barber chair lying around but with lots of missing parts. Apparently, this lowers its value considerably.
When looking for old barber chairs, you may have asked: What's the difference between an antique barber chair and a vintage barber chair? Different merchants will give you different answers. A good starting point though, is to identify the items by their age. Many merchants would call a 200-year old chair as antique while a 50-year old one would be considered vintage. Others are more firm, requiring that an antique barber chair should be at least 100 years old and a vintage should be at least 20 years old. Even so, an antique with lots of missing parts may be worth nothing to a serious collector.
---