When it comes to antique barber chairs, the Koken barber chair has been a symbol of innovation. It was the first one to have a successfully integrated hydraulic lift. This technology made it convenient for the barber to lift the chair up or bring it down when he needed to. It was a groundbreaking idea during the early 1900's.
A Koken barber chair is considered revolutionary during its time. It was the first one that would hydraulically lift up and down. Before 1891, barbers would have had taken a chair and spin it to raise it or spin it the other way around to lower it. Earnest Koken ended up designing his chair so that when the lever is pumped up and down, it would raise the chair up. On the other hand, the chair would gradually lower itself when the lever is pushed on its side.

Ernest Koken invented the hydraulic-powered barber chair, thus it was aptly named after him. Mr. Koken was born in Germany but moved to the United States in his early years. As a young boy, he already had a knack for blueprints. It wasn't surprising that he was able to develop a reclining barber chair while working for a barber chair manufacturing company. He eventually moved on to form his own business called, Koken Barbers Supply. It was a success for some time. Unfortunately, his company went out of business in the 1950's. About a decade later, Koken was acquired by the Takara Belmont Company, a competitor and the manufacturer of Belmont barber chairs.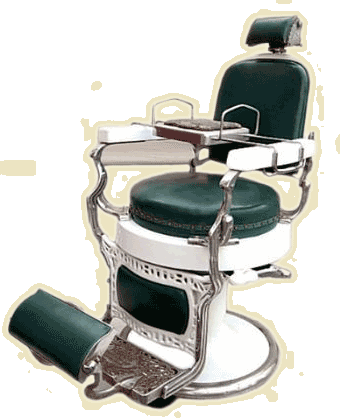 Nowadays, Koken barber chairs are the most sought after vintage barber chairs. Their design and craftsmanship are genuinely one of a kind. A modern equivalent of the chair, the Legacy Koken Barber Chair, is being sold by the Takara Belmont Company to this day. On another note, there was a Koken featured in History Channel's American Restoration. It was a 1930's model shown in the episode titled, Close Shave which premiered on September 23, 2011. Fully restored, it sold for US $6,500. Rick Dale, owner of Rick's Restorations, bought it from a local picker for US $400. Not bad for a beat-up Koken barber chair.
Of all the chairs ever invented, the barber's chair is probably the most complex yet the most interesting in the bunch. A barber chair can conveniently rise up or lower down with the use of a foot-operated jack or a lever on the side. It can also stretch out so that the patron can comfortably lie down for a massage or have her hair washed. The barber doesn't even need to go to either side when cutting hair. The chair can simply be rotated to the direction where the barber wants it to be. A barber's chair is sturdy too. It can withstand men and women of various measurements. This makes sense, considering that most modern chairs are normally made from metal, porcelain and leather.
---